The versatility of ESL extends to shorter text formats as well. By implementing Mobile Engage, you can send In-app push messages enriched with sophisticated personalization logic. With SMS, you can effectively reach a larger portion of your customer base, regardless of their location or time zone, even when they are offline. This allows you to connect with your customers wherever they may be, at any time, maximizing your outreach potential.
Where can I add ESL snippets to SMS & Push campaigns?
When creating a new SMS or Push campaign you can personalize it with pre-created ESL snippets that you have saved as personalization tokens.
SMS
When creating SMS campaigns, select the Personalisation tab where you can add your previously created ESL snippets saved as tokens:
Push messages
When creating Push campaigns, go to the Personalization tab in the Visual Content Editor (VCE) to add personalized tokens to the push message.
How can I insert ESL snippets into SMS and Push campaigns?
SMS
You can insert personalization tokens into an SMS message the same way you do it in emails: simplydrag and drop them into your text field.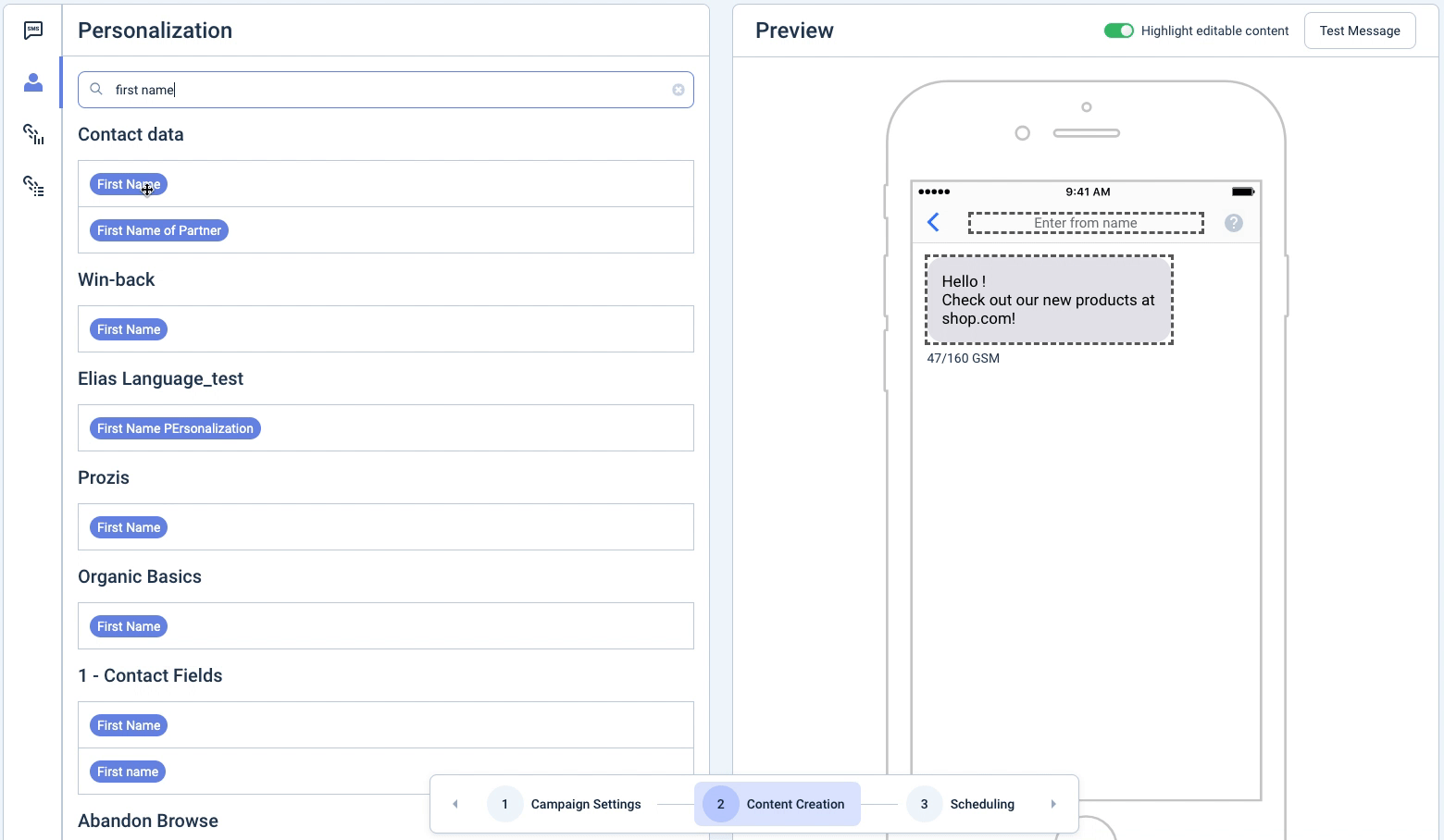 Push campaigns
You can add a personalized token to your push message as follows:
Use the dynamic search field to find the required personalized token.

Drag the selected token into the Preview pane and drop it where needed.

Checking how the ESL snippet will look for my users
Launching your SMS campaign
To check how your ESL code will look for your users, you need to schedule a live campaign. Test messages do not support any personalization features, which means that your ESL code will not render when sending a test message.
You can read more about how to launch your campaign here.
Contact Preview for Push messages
The Contact Preview feature allows you to preview the campaign including the personalization tokens that are replaced with the appropriate contact data. To use this feature, click the Contact Preview icon.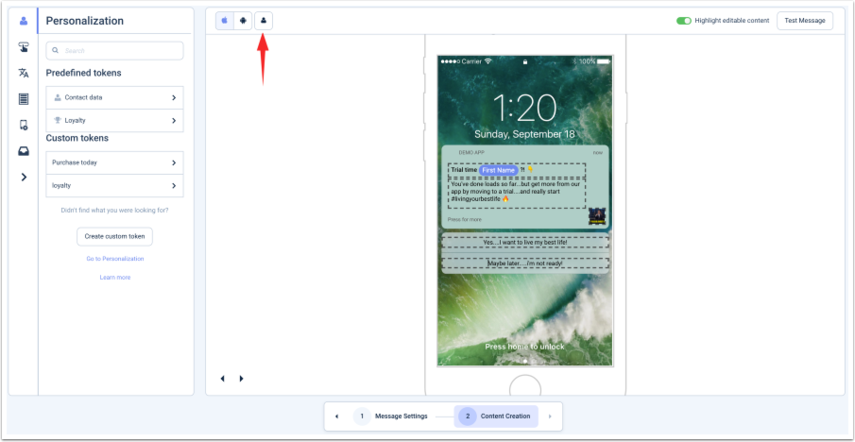 Sending test Push messages
To test your message, click Test Message in the top left corner.
In the Send Test Message dialog, you can specify an email address or contact list to which a test message will be sent.
If the test message cannot be sent, a red warning message appears on the screen. The reasons for this could be the following:
No contact has been found in the Emarsys database with the given email address.

The email address has been found, but there is no device associated with it.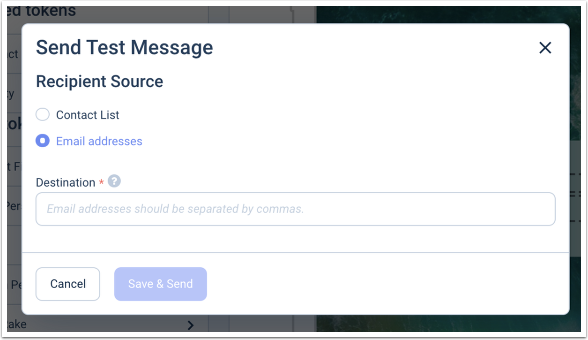 To test your message, click Save & Send.
If you are new to Mobile Engage Push Messages and SMS, head over to our Emarsys Help portal for more information and see the Mobile Engage - Push Messages and Emarsys - SMS Overview pages.
For ESL examples, just head over to our examples section.